In order not to dazzle oncoming traffic, the dipped headlamps should have a range between 30 and 50 metres (33 and 55 yards).

Adjustment from inside the car:
To raise the beams: turn knob (1) clockwise.
To lower the beams: turn the knob anti-clockwise.
Adjustment from outside the car:
The range and the direction of each headlamp beam can be modified by operating the hexagonal nut which secures the headlamp to its ball joint support.
As the adjustments can only be correctly carried out in workshop containing the necessary equipment, have them checked by a Citroën Dealer.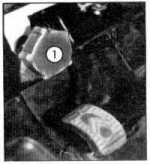 Fig. 44 - Adjusting the headlamps
from inside the car (L.H.D)
1 - Adjusting knob