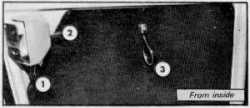 Fig. 3 - Rear side doors
1 - Opening
2 - Locking
3 - Handle
| | |
| --- | --- |
| Rear boot door | (Fig. 4 and 5) |
To open:
(normal opening)
Use the door key to unlock the outer handle, then turn the handle anti-clockwise; the door will open slightly. Raise the door fully, free stay (1) and engage its end in support (2) to keep the door open.
To open:
(optional greater opening)
After unlocking the handle, open the door fully, raise support (3) and engage it under hook (4).
To shut:
While holding the door, free and set stay (1) or support (3) back in their rest position, then lower the door, still holding it.
To lock:
Use the key. With the door locked, the handle should turn loosely.
Never drive with the rear door supported by its stay or by the support for greater opening.