Standard fitting:
The maximum towing weights are, in France:
Trailer without brake: 270 kg (595 lbs).
Trailer with brake: 400 kg (881 lbs)
Important:References to trailers without brakes do not apply in Great-Britain.
If you wish to use a caravan or a trailer, first consult your Citroën Dealer who will give you all the necessary advice, especially in so far as the legal requirements are concerned.
Indeed, it is imperative to follow the legal requirements of the country you are staying or travelling in.

Positions:
Manufacturer's plate

Under the bonnet on the scuttle panel, right-hand side.

Stamped mark

On the R.H. front sidemember of the platform.

Engine plate

On the engine housing, right-hand side.




Information:
On manufacturer's plate

Identification number.
Gross vehicle weight.
Gross train weight.
Gross vehicle weight on front axle.
Gross vehicle weight on rear axle.

Stamped on body

Type of vehicle.
Series.
Chassis number.

Engine plate

Make.
Engine type.
Manufacturer's number.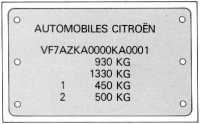 Fig. 56 - Manufacturer's plate

Fig. 57 - Engine plate