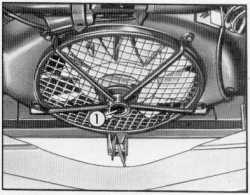 Fig. 54 - Starting using the starting handle
1 - Starting handle entry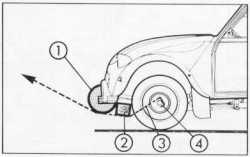 Fig. 55 - Towing from the front, with the vehicle raised
1 - Stout padding
2 - Wooden cross beam
3 - Cable
4 - Hooking bracket

| | |
| --- | --- |
| Starting using the starting handle | Fig. 54 |
The strating handle is placed in the boot.
To use it, open the bonnet and introduce the handle into orifice (1) of the front grille until it engages in the fan pulley. Turn it clockwise by half turns, upwards.
Do not forget to keep the handbrake on and to position the gear change lever in neutral.
From the front:
Attach a cable to the rings specially provided at the end of the front sidemembers. Use both rings when towing. Never fasten a cable or rope to a bumper.

By raising the vehicle:
Attach a cable (3) to the L.H. and R.H. suspension arms (4).

Insert crosswise a length of wood (2) under the platform sidemembers.
Insert a stout padding (1) along the bumper so as to protect it.
Raise the vehicle gradually without jerking it.
From the rear:
Attach a cable to the rings specially provided, taking all necessary precautions to protect the body closing panels.

If your vehicle has to be towed by with all its wheels on the ground, ensure, that the ignition/anti-theft key is in the lock (see page 10a) and turned clockwise to "ignition on" (1). It is advisable to disconnect the lead from the "-" terminal of the ignition coil if the engine is not running. Ensure that the gear lever is at neutral
Never have the key in the steering locked position while the car is being towed; inadvertent withdrawal of the key would cause the steering lock to operate, with serious consequences.

Side/Tail lamps, headlamps, horn and stoplamps are usable wether the ignition is switched on or off.
Direction indicators (on 2 CV 6 Club only), screen wipe/wash, heating and demisting only operate when the ignition is switched on.
Remember that if the engine is not running, the use of electrical items will eventually discharge the battery.
Maintenance:
At the beginning of the cold season, insert a small ammount of glycerin or anti-freeze into the door locks, using an oiler or a dropper.

In case of emergency:
Heat the key slightly with a match flame or a lighter before inserting it.