Standard fitting:
AC 42 F
Bosch W 225 T 1
Bosch W 5 A
Eyquem 755
Marchal 35
Marelli CW 7 N
Firestone F 32 P
Champion L 85
Electrode gap: 0.65 to 0.75 mm (0.025 to 0.029 in) (Fig. 53)

Removal:

After starting to undo the sparking plug with a spanner, cap the sparking plug with a piece of rubber tubing.
Finish undoing the plug then take it out.
Fitting:
Cap the insulator of the replacement plug with the rubber tube.
Screw in by hand as far as possible.
Finish tightening with a spanner.
| | |
| --- | --- |
| Replacing the "LHM" fluid by oil in an emergency | |
In an emergency it is possible to use "SAE 10" or "SAE 20" engine oil in replacement of green "LHM" fluid of also "Type A - Suffixe A" or "Dexron" automatic gearbox oil.
However, as soon as possible, the reservoir must be drained by a Citroën Dealer, and refilled with green "LHM" fluid.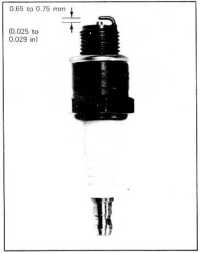 Fig. 53 - Electrode gap