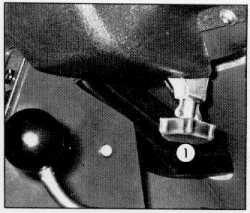 Fig. 25 - Ventilation shutter
1 - Control knob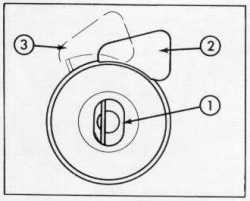 Fig. 26 - Front door windows
1 - Lock
2 - Lock control
3 - Released position
| | |
| --- | --- |
| Front ventilation | Fig. 25 |
(Cold air only)
Turn knob (1) clockwise to obtain the required output, and anti-clockwise to reduce or stop the air inlet.
| | |
| --- | --- |
| Front door windows | Fig. 26 |
To open them partly:
Press the catch situated on the lower part of the window frame. The windows will remain partially open while driving.
To open them fully:
Push the mobile part of the window right up in order to engage the retaining head in the opening of the upper exterior lock (1).
To close them:
Remove the retaining head from the lock while operating the control (2) to bring it to the released position (3), then close the window.
| | |
| --- | --- |
| Ducts for windscreen and floor | Fig. 27 |
(Warm air only)
| | |
| --- | --- |
| To operate: | Push lever (2) towards the red mark. |
| To stop: | Move lever (2) in opposite direction, on the blue mark. |