| | | | | |
| --- | --- | --- | --- | --- |
| | Back | 2CV Restoration - References | | |
Well - Jay Leno didn't buy a 2CV from us ...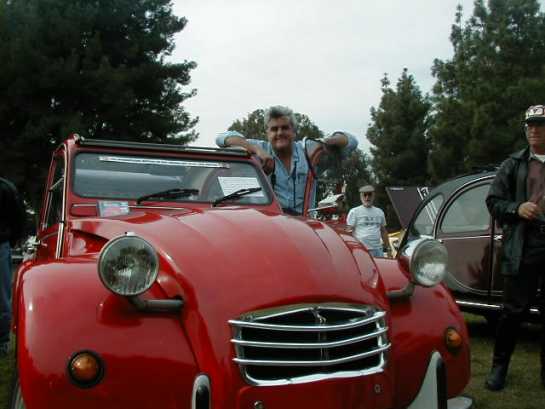 we just happened to meet him at a classic car show in Los Angeles. He was kind enough to pose for some photos with one of the cars we sold.
You may love or hate his show; as a person he has the right character, as he is a classic car collector like many of us. In his collection he also has some Citroëns.

Curious to see more celebrities with our 2CVs?
Click here to see one of our cars with a world famous rock group.
See below a few of the 2CVs we sold and read about their happy new owners.

---

Click photo for full story and slide show
The United Nations Ambassador for Latvia with his wife and 2CV

We met Janis and his wife Sarma during Raid Australia 1988. Since then we were good friends. At that time they still lived in Australia. Many years later when the political situation in the East changed and free elections took place, Janis was elected into the Parliament of Latvia, his country of birth. After some years of good political work he was sent to New York to represent Latvia at the United Nations. As a true 2CV enthusiast he decided to buy an elegant and representative 2CV. So the gray Charleston "Hoffmann Cabriolet" became an official UN ambassador car with diplomatic license plates.
Of course this car was always good for some nice and unforgettable incidents. The French ambassador gave him a book of Fabien Sabates about the 2CV. His colleague from Great Britain wanted to take photos of the 2CV besides his big Rolls Royce. As the official car of the Latvian Mission it once had to serve to pick up the Latvian Foreign Affairs Secretary from the airport. It was raining cats and dogs and all windows were fogged. So Janis opened the air vent with the result that a flood of water splashed onto the Secretary's legs when he was cornering. If he was amused? Well, at least he took it with humor as we were told ...
---

Click photo for slide show
Emmett Kelly Jr.'s 2CV Dolly

Americas favorite clown, Emmett Kelly Jr. likes old cars. So he completed his collection with this lovely red and white 2CV Dolly. It is easy to imagine this car driven by this great clown with a white face and a red nose matching the white car with the red fenders.
In one of his letters to us Emmet wrote: .... Incidentally, Love the "DOLLY" it is definately a FUN car. I scare the hell out of people taking corners - it leaning so much. .... You know, I sold the 2CV/4, because it was so underpowered. I did see 50 MPH on it... ha ha I've seen 82 on the Dolly .. that's MPH! It's very snappy and FUN to drive. My daughter said it was the finest riding car she ever rode in (Course she never rode in the BIG Citroën).
---
Award winning Charleston:




Click photo for slide show
David's 2CV in Arlington, VA

A man from Seattle saw one of our nice 2CVs we had on display. Not being interested in a 2CV himself, he knew that a friend from Arlington was looking for one. So he took some information about the 2CV on display and sent it to his friend.
The next time his friend visited Seattle, he took him to our place. Initially they came for a Rouge Vallelunga 2CV6 Club but when David saw this outstanding Charleston, his decision was made. He later told me that his friend had the strict order not to say anything that might influence him. So when he announced his decision to go for the Charleston, his friend was finally allowed to say his opinion - he couldn't agree more. When they came to our house and saw our cars - both of them knew right away: This Charleston is the one.
Right after his visit here, David travelled to France - don't ask what he was dreaming of during this time. We arranged the shipment of the Charleston for him. So when he came back from France, his beloved Deux Chevaux arrived at his house.

In David's own words:
Axel: I have been meaning to email you for weeks, but just never seem to get around to doing it. I LOVE MY CAR!! It is giving me total joy and the people in Sehandoah County are fascinated by it! I was in France during the first two weeks in July and rented the Citroen that is the successor to the 2CV. It is a marvelous little car. I am off to Paris again this afternoon to attend the Paris Gift Show on my candle company business, but I wanted to get this off you to before I left. Just because you don't always hear from me doesn't mean a thing. The car is fabulous and I am fortunate to have it. I love the story of my purchase on your website. Best to your wife. Hope this finds you all doing well.
David

---

Click photo for slide show
Bert's New Old Stock Charleston on Whidbey Island, WA

Our fellow Northwest Citroen Owners Club member Bert had two 2CVs before. But his long time dream was to own a New Old Stock maroon and black Charleston. Unfortunately this particular model is almost impossible to find as a NOS. Almost every Charleston has been used a lot - which killed the paint and destroyed the seats, plus all the standard 2CV rust problems and the normal wear.
So when we got the opportunity to buy a New Old Stock Charleston - knowing that Bert had always wanted this model, we purchased it right away for him.

---



Click photo for slide show
Don's New Old Stock 2CV in Dalton, GA

Being a car nut and a collector, Don contacted us for a low mileage 2CV. He was in the market for buying a 2CV. The only poblem was that at that time he also had an eye on a rare Porsche. He first decided to go for the Porsche, but after a few days he couldn't resist anymore - the Porsche was out, the 2CV was in.
When he got his 2CV, he was very excited. For the first few weeks he called me sometimes twice a day to tell me about the fun he had with his 2CV, the people he met because of the car, and of course of his friend who owns a Porsche. Prior to the purchase this guy had told him that he wouldn't tow him with his Porsche when he would have his first breakdown. After the friend took a ride in the 2CV he thought of buying a 2CV as well. Don however offered him that if the Porsche has a breakdown, he would tow him with his 2CV.

Don's comment in our guestbook:
2cvsrus.com is the only place to look at or buy a Citroen 2CV. Axel and Ursula are the only PEOPLE you need to talk to about 2CV. They DRIVE what They SELL.
You and your 2CV will be in good hands with Axel and Ursula.
Only the best from these folks, And I know because I got a wonderful 2CV from them. Their WORD is their BOND.

Long live the 2CV.(What a RIDE)
---



Click photo for slide show
Ron's New Old Stock 2CV in Nantucket, MA

Ron was in the market for a nice 2CV for about a year. During this time he did a lot of research and shopped around. He contacted us briefly with some price requests earlier this year but no follow up correspondence emerged from this. However, months later he got more serious and contacted us again. He had laid his eye on our NOS 2CV Special. After making up his mind he did what I recommend everybody to do - he flew in, inspected and test-drove the car. Not surprising for me, he liked what he saw and he bought the little Bleue Celeste 2CV Special. I arranged shipping to Massachusetts and a few weeks later he received the latest addition to his car collection.
---



Click photo for slide show
Evan's New Old Stock 2CV in Sacramento, CA

Evan was in contact with us for quite some time. His father had driven a 2CV in the 60ies, so the car represents many memories from his childhood. He is a perfectionist - all his cars, including his daily drivers, are in pristine condition. So he was looking for a near perfect 2CV. However, he wasn't really sure if the 2CV would be the right car for him. He was concerned that he might spend a lot of money and end up not enjoying it. So he decided to buy a cheaper 2CV locally to give it a try. Being fresh painted the car looked very nice but it had severely suffered from rust. He drove it a lot and loved it. Now he knew that the 2CV was THE car for him. Just the 2CVs condition wasn't satisfying. So the decision was to have this 2CV restored or to buy a NOS 2CV. He decided to buy the New Old Stock 2CV. He came to Seattle to see the car in person and test-drive it. The next day he loaded it on a trailer and brought it right home - well not all the way. Once they arrived in Northern California he took it off the trailer and drove it home.
---



Click photo for slide show
Ed's almost new 2CV in San Luis Obispo, CA

We took this car to the CCC Rendezvous Rally 2003 in Morro Bay, CA. This is where we met Ed in person. He came with his classic Porsche 356. Being in email contact for some time prior to the meeting he knew about us and had seen photos of our 2CVs. Seeing the 2CV with his own eyes convinced him to buy it. He did a test drive and we made the agreements for delivery and licensing. Monday morning he was the proud owner of his almost new 2CV.

Ed's comment:
I met Axel and Uschi at the recent Citroen meet held in August 2003 at Morro Bay CA. I had been looking for a 2CV for almost one year. At this meet Axel had on display from his shop a beautifully restored 1975 red club. I have restored many old cars over the years and was very impressed with the quality of his work and attention to the smallest detail. The car looks perfect and runs as new.
You may see some cars advertised a lower price but I would not be able to restore a car to the level Axel has for the price.
From My experience you are most always better off to buy a properly restored car from a Marquee expert than to try and do it your self. This car gets more smiles and thumbs up than any of the other cars in my collection. I drive it every day and love it.
---

Click photo for slide show
Pat's almost new 2CV Club in Laguna Beach, CA

Pat had a 2CV before. So he knew exactly what he wanted and what to look for when he came to inspect this car. He liked what he saw and left a deposit. So the work was scheduled and after a long and patient wait, he could fly up to Seattle to take posession of his nice 2CV. He drove it home following the entire coastline of the beautiful Pacific Coast. He told us that he had a ball doing this trip. Of course, everything went well during this trip.
---

Click photo for slide show
Bryan's perfectly restored Rouge Vallelunga 2CV6 Club in Birmingham, MI

Bryan needed a 2CV for a project. He is an inventor and had planned to convert the 2CV into an electric vehicle using groundbraking new inventions and technologies, including all wheels driven and all wheels steered. My heart was bleeding picturing this nice little 2CV being cut apart and modified. When the 2CV was ready for delivery, Bryan came to inspect it and take posession of it. Very much to my relief, he told me that his wife had seen the photos of the 2CV and wanted to keep it in its original condition. So the decision was made not to salvage the 2CV for the project, but to take it apart and build the frame and the needed parts from scratch - what a relief.
---

Click photo for slide show
Peter's almost new 2CV in Vancouver, BC

Peter met us in Vancouver, BC where we were for the 2003 2CVBC Westcoast Weekend. He liked the car we had there, so he did some research to learn about our reputation. Nobody had to say anything negative about us. So he decided to come to Seattle and have a look at our 2CVs.
From all the nice 2CVs he saw this day, he prefered this car because of its extreme low mileage. With only 5800 mi on the odometer, the 2CV could still be considered new but the price was considerably less than a for a new car. So arrangements were made and Peter came back a few weeks later to join our NWCOC club barbecue and to drive his new 2CV back home.

---

Click photo for slide show






George's 2CV in Wisconsin

George became aware of us by one of our eBay auctions. He was in the market for a 2CV and did his research. Finding our website was striking the Mother Lode for him. He educated himself about the 2CV by browsing through our pages. With the newly discovered knowledge he started to analyze 2CVs listed on the Internet. He begun to read between the lines of the fancy descriptions and he knew where to look for rust on the photos. Needless to say, he found plenty in the photos that our competitors had posted in their auctions. The more he saw, the more he knew that his 2CV would come from us. A few months later he came to Seattle from his winter home in Arizona to inspect his 2CV to be. When he and his wife moved back to their summer home in Wisconsin, they flew into Seattle, took possession of their 2CV and drove it home to Wisconsin.

Read George's own words:

I first talked to Axel last year to find out more about a Dyane from his area being sold on eBay. I learned that although you can trust the 2CV implicitly you need to know most about the vendors of the cars. Just as in any important purchase -- references and referrals are the key.
I grew to appreciate Axel's knowledge, experience, and forthrightness. He gives full details and pictures of all work he does. Most others just claim that the work has been done. He'll provide customer references - very unusual. And he will be very frank about his cars; others "puff" them suspiciously. And he is well known in Citroen community -- many international "raids" and world meetings, etc. If he were less than trustworthy that news would spread fast. So I decided that whatever 2CV I bought I would buy through him, not the other way around. My 2 CV 6 Club "Rouge Vallelunga" (color) is the result of that decision.
I flew to Seattle with a cashier's check in May 2004, tested the car, drove it, and bought it. Then got a WI license plate and flew back in June, took delivery, and headed East. What a kick! Over the Cascades and the Rockies, across vast Montana & Dakota at 70 mph +, and a wonderful greeting in Minneapolis by Michael Barone and Citroen Club members at a lavish buffet. All from our 2CV connection.
The Summer is full of delight of people who are amazed at our little friend: many memories restored of their experiences with 2CVs in Europe, secret envy of us for this "fun car", admiration of the engineering of the car and the wonderful condition you brought it to. Everywhere I say "if you want one yourself, first locate an importer/restorer you can trust; the rest is easy." So there you are, and we thank you.
Thank you both again for the fun you have put in our lives!

Regards,
George
---

Click photo for slide show
Andy's 2CV in St. Paul, MI

Andy is mainly involved in classic British cars. However, he liked to own a 2CV too. He did some research on the Internet and met one of our happy customers, George in Minnesota. Once Andy learned how we work, what quality we deliver and that we are highly recommendable and honest, he decided to buy a 2CV from us. A few emails and telephone conversations and he was on his way to Seattle to pick up his 2CV. He and his wife arrived in mid January to drive the 2CV of their dreams home, very courageous considered that temperatures in North Dakota were as low as 40° below. Neither these harsh weather conditions, nor the fact that he had never driven a 2CV before scared him away. He and his wife drove the 2CV all the way from Seattle, WA to St. Paul, MI. After he returned, he wrote a nice article about his adventures, which he published in his Classic Car Newsletter.

Read the article - it's worth it!
---

Click photo for slide show
Dave's 2CV in Milwaukee, WI

Dave had bought a white 2CV after the 2002 ICCCR in Amherst, MA as his daily driver from a German guy. The car was a very sweet running car that worked fine, even in winter, but being a $3000 car it would need a new chassis and floors to survive more than one or two of the tough Wisconsin winters. So Dave contacted us for a good and reliable 2CV that he could use as a daily driver all year round.
This is how he ended up with "Trixi", not a showroom car but reliable, safe and sound. The new frame with our special grease rust protection will allow him many years of fun driving his nice little 2CV.
---

Click photo for slide show
Zack's 2CV in Bakersfield, CA

Zack is the schoolteacher in a little town near Bakersfield, CA. It's like a scene from an old Western Movie - the old Schoolhouse with the little red house for the teacher right next to it.
He traveled in Europe before and even owned a 2CV for a short while during his time in France. So when he saw our advertised 2CV, it only took a short while for him to decide. We delivered the 2CV to his house. We had to continue to San Diego, so he showed us the way back to the freeway - we just had to follow him driving his new 2CV. Wow, we could really tell that he had driven a 2CV before. On the highway I had problems to keep up with him (we were in his Mercedes!). He handled the 2CV like if he had never driven anything else.
Later he told us about the kids comment after a ride in the 2CV "It feels like sitting in a giant grasshopper".
---

Click photo for slide show
Georgia's 2CV in San Francisco, CA

Georgia already owned a 2CV but her car was a 2CV4. On the hills of San Francisco the weak engine is a real setback. So Georgia always tried to avoid the steep hills, following the bike routes. She didn't want to have a car other than a 2CV, but a stronger motor would be appropriate. She checked our website and got in contact with us. On coincidence we were just in the area - delivering Zack's 2CV, so before we went back home we met in San Francisco.
A few weeks later she flew into Seattle to see our 2CVs. Of course she was very impressed with what she saw. The decision was made to buy the Bleue Cheleste 2CV6 Club. After returning to San Francisco she sold her nice but slow 2CV4 and returned to Seattle a few weeks later on a one way ticket and drove the 2CV of her dreams back home.
---

Click photo for slide show
Destia from Vashon Island, WA with her 2CV

We parked the 2CV for the day on a busy road in Seattle where Destia saw it and fell for it. Since she likes France she knew what kind of car this is. She called me right away to arrange a test drive and to learn more about this lovely 2CV.
About a week after she saw this car the first time she was the proud owner of a 2CV. During this week she talked to many people about her plan to buy this car. Most people knew the car - they also saw it parked. This confirms again that the 2CV is a real eye-catcher in the US. Like any other 2CV owner she will get used to people being interested in this car and acting friendly.
---

Click photo for slide show
Dick from Boise: 2CV Charleston
When we first met Dick we all learned how small this world is. He ran into us in a crowded street in Seattle on a Saturday morning. We were there to have a 2CV for sale on display. At that time we still lived in Germany and were in Washington State only for a week. Along came Dick with his family. They flew in from Boise, ID just for the day. Their plan was to do some shopping and fly back the same afternoon. Well - Dick saw the 2CV, a car he was looking for for a while. Of course he started to talk to us. Our accent revealed that we were no native English speakers. He told us that some time ago he corresponded with some people in Germany to buy a 2CV and than we all realized that it was us. He had contacted us many months ago via Internet. For quite some time we had no more contact - and then fate brought us together in Seattle where each of us spent only a few hours on this particular day.
When Dick saw the nice 2CV we had for sale he wanted to buy it right away. One week later he flew over to Seattle, we picked him up from the airport and he drove home to Boise in his own elegant 2CV Charleston.
---
Katherine's 2CV in Seattle, WA

Katherine found our website on the Internet. The delivery of her custom made 2CV was arranged and we shipped the car. After we imported the 2CV she was all of a sudden the owner of a car - her first own car ever.
Right after she got the 2CV, her work took her to Moab, UT. So the 2CV got first licensed in Utah where an inspection is required prior to licensing. The inspector initially refused to give his ok. He said the car is unsafe - it has no brakes on the front wheels!?! Well, this is half way true. It very much depends on the way you look at it. This inspector didn't realize that the 2CV, other then most cars today, is equipped with inboard brakes. The front brakes are mounted on the transmission where he couldn't see them since he just looked on the inside of the wheels.
Once this inspector was convinced that the 2CV has brakes for the front wheels there was no further problem to get the 2CV on the road.
---

Click photo for slide show
Restoration we did for John from Maple Valley, WA
Someone from Belgium sold this wreck of a 2CV to an unsuspecting buyer in the US. The car was unsafe to drive but still looked reasonable - the usual story. No way that the poor little 2CV could have passed the technical inspection in any European country. The cunning seller knew how to solve the problem: Push it on a boat, ship it to the US and sell it for top dollars to an unfortunate American. Unfortunately the condition this car was in is very typical for used 2CVs from Europe. Quick and dirty repairs - rust just covered by some sheet metal.
John, a fellow Citroen club member, got this 2CV for his daughter. He brought the 2CV to us to have it inspected. The devastating result was: A collapsed frame, a rusted front bulkhead, rusted floor panels, destroyed seatbelt anchors and some rust in the trunk.
The decision was made to save the 2CV's life - after all it was a rare specimen, a 2CV Perrier from Belgium.