Back
2CV Restoration - References
The United Nations Ambassador's 2CV
Update 2020
Janis has retired from teaching and also cut back on traveling. So the 2CV, which he had kept in the Los Angeles Area, was not needed anymore. He contacted Jay Leno, who is a big fan and collector of Classic Cars. Janis ended up giving the 2CV to Jay Leno.

Jay Leno published a 20 minute video about this 2CV:

The following article was written while Janis did his tour of duty from 1998 to 2001. Now he is back in Latvia, retired from politics and is back teaching at the Univerity in Riga. He has another 2CV in Riga. The gray 2CV Convertible is still here in the US. The current UN Ambassador however has a very different vehicle.
The United Nations in New York:
Representatives of nearly 200 nations discuss the peace and problems of this world. Serious men and women work there. They are important and want to show this, of course. They are driven in a Rolls Royce, Mercedes or alike even though most of the missions and embassies are only 5 - 10 minutes in walking distance from the UN building.

But there is one exception from the rule:
The Ambassador of Latvia drives a 2CV! And this is not because his little home country could not afford anything else; this is because he is a real 2CV enthusiast. At his inauguration he was dreaming of showing off once in a pretty 2CV between all those big representative cars.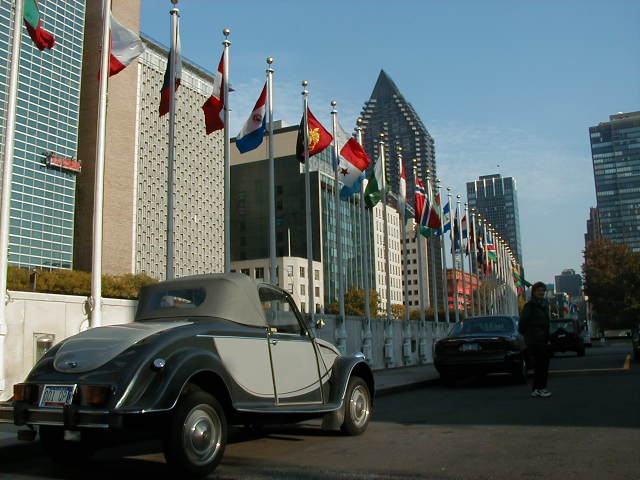 Some of the UN flags and the 2CV
Not too much later a beautiful 2CV Hoffmann Cabriolet in Charleston design and gray / gray colors was parked in the garage of the UN high-rise near the East River. And it carried diplomatic license plates.
Usually Janis walks there, as the Mission of Latvia where he lives is located just around the corner. Since it is nearly impossible to get a parking space on the road in Manhattan and parking garages are unbelievably expensive, his 2CV stays in the UN garage.

As the official car of the Latvian Mission it once had to serve to pick up the Latvian Foreign Affairs Secretary from the airport. It was raining cats and dogs and all windows were fogged. So Janis opened the air vent with the result that a flood of water splashed onto the Secretary's legs when he was cornering. If he was amused? Well, at least he took it with humor as we were told ...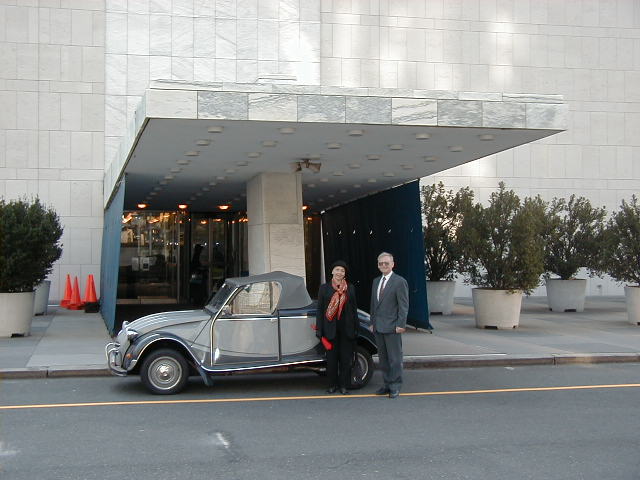 Ambassador Janis with his wife and 2CV
After WW2 Janis - a child at that time - left Latvia with his family. They lived in Germany, France, USA and then ended up in Australia where he worked as a professor for anatomy.
We met them in 1988 and on every 2CV Raid down under since. There they have a little green 2CV in their garage. And it's not alone. There are other fast and furious cars.

Since Latvia became an independent free country again Janis is back there and working as a politician. He was sent to represent his country in the European Parliament in Strasbourg and later at the United Nations in New York. And there he has fun with his gray beauty. And not only he alone! The French Ambassador gave him a book of Fabien Sabates about the 2CV. His colleague from Great Britain wanted to take photos of the 2CV besides his big Rolls Royce and some envoys from Africa just love it.
And also on the roads this little convertible is always good for smiles and thumb's up from other motorists.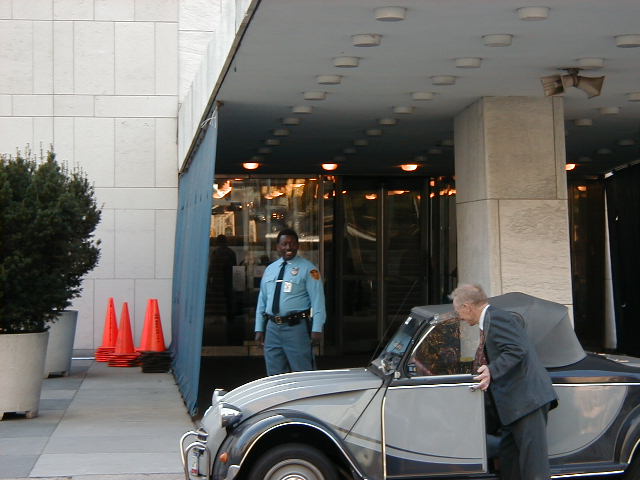 2CV at the UN ambassadors entrance with security guard
Well, this article was originally written some years ago when we sent this Hoffmann-2CV to our friend Janis. Meanwhile his wife died, his tour in New York is over and he is back in Latvia where he drives a - guess what? - A blue 2CV, of course!
See more photos in a slide show
24 photos 15K - 39K