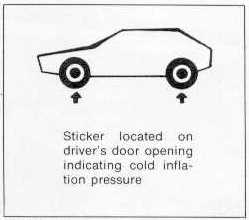 Fig. 39 - Tyre pressure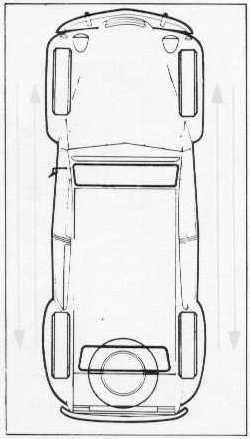 Fig. 39a - Tyre rotation
| | |
| --- | --- |
| Periodic maintenance operations | |
These are indicated in the Maintenance Guide", which accompanies this manual. We would recommend you to adhere to the frequencies indicated and would remind you that we recommend "TOTAL" lubricants.
All mixtures and experiments are forbidden, and, in particular, the use of oil additives of any kind, as these may lead to serious trouble.
Never grease or lubricate the rubber mounted link situated under the bonnet, above the gear change lever. Never grease or lubricate the gear change lever.


Standard equipment
Authorized alternatives
Pressures
FRONT
REAR
SPARE
125-15X
135-15X
1.4 bar (20 psi)
1.8 bar (26 psi)
2 bar (29 psi)
125-15X (M + S)
1.4 bar (20 psi)
1.8 bar (26 psi)
2 bar (29 psi)
135-15X (M + S)
1.4 bar (20 psi)
1.8 bar (26 psi)
2 bar (29 psi)
135-15ZX
1.4 bar (20 psi)
1.8 bar (26 psi)
2 bar (29 psi)
* Tubeless or not: depending on equipment.
These pressures apply to laden or empty vehicles, on roads or motorways whatever the speed.
On authorized series 135-15ZX, the pressures should be modified in certain cases: on stony tracks, 1.6 bar (23 psi) at the front; in sandy conditions, 1.0 bar (14.5 psi), front and rear.
Tyre pressures must be checked when the tyres are "cold". A cold tyre is one that has not been driven for at least an hour, or that has been driven for 2 or 3 km max. at low speed.
Do not forget to check the pressure of the spare wheel.
The pressure increases when the car is running; never deflate heated tyres.
When checking heated tyres, the pressure should exceed by 0.3 bars (4.35 psi) approx. those recommended for "cold" tyres - (1 bar = 1kg/sq. cm).
Changing the wheels round evens out the wear on the tyres. We advise you to carry out this operation every 20,000 km (12,000 miles). Follow the diagram opposite. Correct the pressures afterwards.
Keep a check on wheel balancing, especially after a puncture.
Changing the wheel is described on page 30.
Do not use tyres other than those we recommended.
UNDERINFLATED TYRES = DANGER