The fan - fan pulley
If you like to check the water level in your 2CV's radiator - you will have a hard time. As you should know, the 2CV motor is air-cooled. The cold air streams alongside the cylinder head and cylinder walls and transports the heat away. To supply enough cooling, the air stream supplied from the movement of the car is insufficient. Even in hot summer temperatures and standing still in a traffic jam, the motor may not overheat. To supply this air stream the motor has a fan on duty. The plastic fan is attached to the front end of the crankshaft. While the motor runs the fan supplies the essential cooling.
The only critical situation is when the fan pulley breaks. Unfortunately this happens quite often. The pulley is a steel plate what was pressed in shape. In the center you will find a cone shaped cylinder what fits onto the front end of the crankshaft. This part was welded into the center of the formed steel plate. To avoid tension in the material the whole welded section should have been heated up after the welding to allow the molecules to get rid of the tension. Because of production costs this was never done. This leaves the tension in the molecular structure of the plate. Caused by vibration this tension will lead to cracks in a long term.
It is very hard to realize a broken fan pulley while driving. Since the alternator isn't been driven anymore the battery voltage will drop down. Once the motor starts sending smoke signals - it is too late.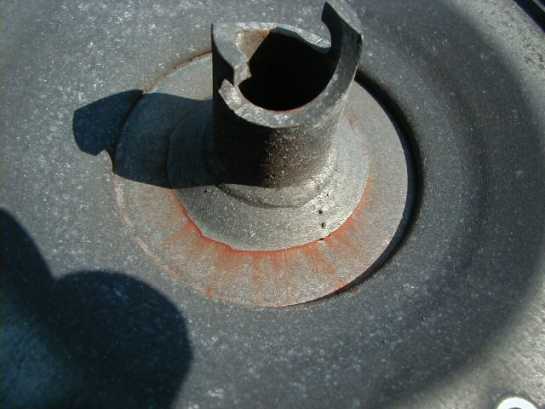 Picture 1 Fan pulley with crack
Once the crack appears it will be visible by a fine rusty line alongside the crack. The fan pulley is zinc plated in yellow. Rust will develop in the crack on the unprotected surface. The fast rotation of the fan pulley will drive the water out of he crack. The rusty red water will go from the crack to the outside of the pulley. You can clearly see the traces. The crack itself is the sharp borderline between the clean inside and the rust red outside.
If this picture appears you should replace the fan pulley within the next time. Since you cannot continue with a broken fan it is recommended always to carry a spare fan in your 2CV. You can always get tools but without the spare part you are out of luck. You should carry a complete fan with pulley. When the pulley breaks the fan scratches on the grid and the housing. This may destroy the fan. The spare fits nicely under the spare wheel in the trunk.