Our experience with 2CVs
We both share a strong passion for the 2CV. In 2002 we look back on over 22 years of 2CV ownership. Another car was beyond any consideration. After many years with just one car for each of us we gradually became collectors. It all started slowly with a Mehari. This car was never sold in Germany - so it was quite a challenge to get this car legally on German roads. With our first collectors car we also needed some garage space. The garage I got was big enough to store the car and some parts but too small to work in; there wasn't even electricity.
So far all maintenance work and necessary repairs were done in the street. This is mostly inconvenient since the weather the neighbors and police in Germany are no real support for tasks like this. The first clutch I changed took me about a week every day after school and work I spent some time on the car until it got dark. Lack of experience, not having the right tools and having no space to do this job proper made it a nightmare.

Then we planned to participate in "Raid Australia" again. For this trip we couldn't use one of our every days cars. We had to look around and buy a 2CV especially for this event. Before we could think we had another 2 cars. Both were damaged in accidents. Now the need for a workshop was very urgent. We ended up renting a part of an old barn with space for up to 3 2CVs. We rebuilt and restored the just purchased cars for raid Australia and as another every days car.
By now we also became the much needed and appreciated support for any technical need of our fellow club members. This was about the time when it became very popular to replace 2CV frames. We did this job on almost every car in our 2CV club. So our workshop was very busy every weekend. In the beginning we just replaced the frame. With every job we got more experienced. More tools were purchased and more complex tasks were started.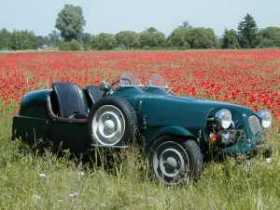 We used the growing experience to build our own car. At a 2CV meeting I saw the Lomax kit car - I had to have one. So the decision was made, the kit was purchased and all of a sudden we were car manufacturers. It took us more than 3 years to finish this project since we were constantly interrupted by yet another emergency with another frame to replace. But once the car was finished it sure was a beauty. It looks like an old Morgan three-wheeler but based on 2CV technique a very unusual and really pretty car.

Around the corner came a unique opportunity in form of an AK 400 (Truckette). We had the rare chance to buy a structurally sound car from 1974. So there we had another car. Together with the brand new 2CVs, the last ones our Citroën dealer sold, we now needed more space to store the cars. We moved to another workshop with more space and some extra barns as storage space for cars. Once we had this space we really started big and serious restoration jobs. In the barn before we were not allowed to do any welding work so the possibilities were limited. In the new shop we could do everything. So subsequently we got MIG welding gear. From now on everything was possible. We specialized in real restoration jobs - a lot of work but for the sake of the 2CV it was well worth it.

With every restoration we developed new techniques to do the work better. With the growing number of cars came different problems to fix. Almost every car needed a new frame and showed the usual rust spots. But in addition we did more and more complex jobs i.e. replacing king pins and steering levers, replacing wheel bearings, fixing transmissions from the usual backup-problem, fixing every kind of problem in the engine. Some of these jobs required special tools that we had custom made.

The experience enabled us to participate in a competition at the 2CV Worldmeeting to assemble a complete 2CV engine. In this contest you got a box containing every part of a disassembled 2CV motor. The goal was to make an engine by assembling every part and every nut and bolt in the right order. I participated with a friend and we made 3rd place with about 15 minutes. The winner needed only 12 minutes. But still our result is not bad when you learn that the winner was a professional Citroën mechanic.

Over the years we restored about 60-2CVs. Most of them were friend's cars but we also started to sell restored cars eventually. These cars found their way to the US where our friends were acting as our agents to sell the cars for us.