We are Ursula Walter and Axel Kaliske.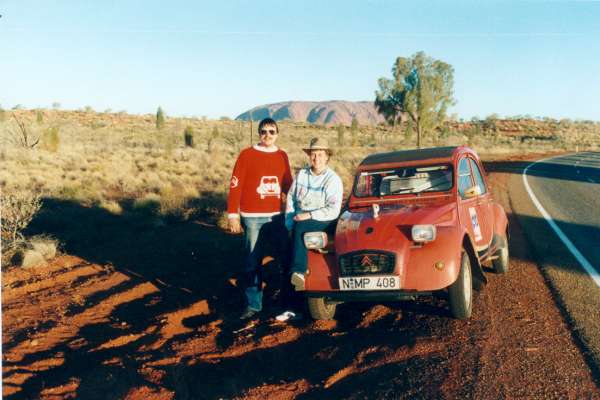 Hobo und Uschi in front of Uluru (Ayers Rock)


We are both enthusiastic fans of the 2CV. Another car will never be good for us. For many years we have played an active part in the international 2CV scene. Uschi was running the 2CV club in Duisburg before she came to Nuremberg back in 1989. At that time I was already involved in a team editing the 2CV magazine "Der Entenschnabel" ("The Duck's Bill"). Since 1990 we have run the local 2CV club in Nuremberg "Die Entenfamilie". Together with two club members we publish our magazine still every second month. Meanwhile the magazin has about 600 subscribers worldwide. So we stay in close contact with the international 2CV and Citroën scene. We participate in many international 2CV events. Since 1983 I haven't missed a single 2CV worldmeeting. Also we have been to many Citroën worldmeetings. Whenever we have the time we participate in 2CV raids i.e. Raid Australia 1988, Raid Laponie 1990, Raid British Columbia and Raid Australia 1996. Back in 1991 we organized Raid Germany. The intention was to give our friends from overseas a chance to visit both parts of Germany shortly after reunification.

During all those years the number of our 2CV's increased significantly. Meanwhile we own a Mehari with a german license and a AK 400. But the most beloved car is a 2CV which was built in Slough, England in 1955. This car was in a warehouse in Bangkok from 1955 to 1986. It was never driven. In addition we have some more or less standard 2CV's for daily use. To be able to do repairs on our own cars and cars of clubmembers we have rented a workshop since 1990. Since then we were able to do jobs what take more than a day. First we started with minor repairs. We also salvaged some 2CV's. Everytime we learnt more about the car. After some years we were in a position to build a car ourself - a Lomax. The repairs went on and the know-how increased. We started to buy accident-cars and restored them totally. So started the first frame-replacement jobs. A little later we did the first restoration because of a rusted chassis. In the time between 1992 and 1999 we have replaced about 45 frames.

With every job the know-how increased and more specialised tools were bought and made. Meanwhile we do a standard frame-replacement job in a weekend. We do all this work on a non commercial basis. If we would try to earn money out of this we should stop all activities immediately. But the 2CV is the focus of our lives. So we try to restore as many 2CV's as possible - knowing that every restoration saves the life of a 2CV. Thanks to the lousy production quality in Portugal (mid 1987 until mid 1990) we are still facing a lot of work.